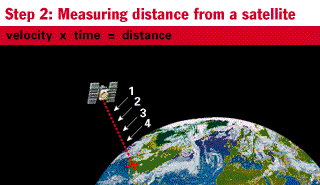 The Big Idea Mathematically
In a sense, the whole thing boils down to those "velocity times travel time" math problems we did in high school. Remember the old: "If a car goes 60 miles per hour for two hours, how far does it travel?"
Velocity (60 mph) x Time (2 hours) = Distance (120 miles)
In the case of GPS we're measuring a radio signal so the velocity is going to be the speed of light or roughly 186,000 miles per second.
The problem is measuring the travel time.