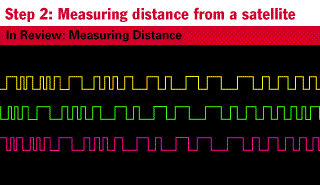 In Review: Measuring Distance
Distance to a satellite is determined by measuring how long a radio signal takes to reach us from that satellite.

To make the measurement we assume that both the satellite and our receiver are generating the same pseudo-random codes at exactly the same time.

By comparing how late the satellite's pseudo-random code appears compared to our receiver's code, we determine how long it took to reach us.

Multiply that travel time by the speed of light and you've got distance.