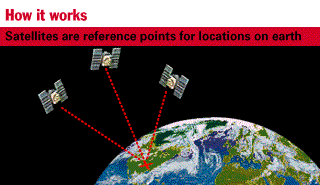 Survey receivers beat the system by starting with the pseudo random code and then move on to measurements based on the carrier frequency for that code. This carrier frequency is much higher so its pulses are much closer together and therefore more accurate.
If you're rusty on the subject of carrier frequencies consider your car radio. When you tune to 94.7 on the dial you're locking on to a carrier frequency that's 94.7 MHz.
Obviously we can't hear sounds at 94 million cycles a second. The music we hear is a modulation (or change) in this carrier frequency. So when you hear someone sing an "A" note on the radio you're actually hearing the 94.7 MHz carrier frequency being varied at a 440 cycle rate.
GPS works in the same way. The pseudo random code has a bit rate of about 1 MHz but its carrier frequency has a cycle rate of over a GHz (which is 1000 times faster!)
At the speed of light the 1.57 GHz GPS signal has a wavelength of roughly twenty centimeters, so the carrier signal can act as a much more accurate reference than the pseudo random code by itself. And if we can get to within one percent of perfect phase like we do with code-phase receivers we'd have 3 or 4 millimeter accuracy! Yeeow!