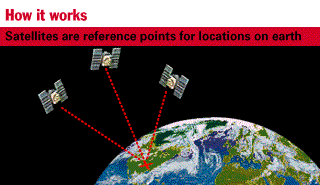 Differential GPS involves the cooperation of two receivers, one that's stationary and another that's roving around making position measurements.
The stationary receiver is the key. It ties all the satellite measurements into a solid local reference.
Here's how it works:
The problem
Remember that GPS receivers use timing signals from at least four satellites to establish a position. Each of those timing signals is going to have some error or delay depending on what sort of perils have befallen it on its trip down to us.
(For a complete discussion of all the errors review the "Correcting Errors" section of the tutorial.)
Since each of the timing signals that go into a position calculation has some error, that calculation is going to be a compounding of those errors.