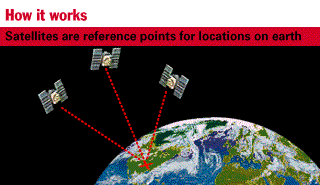 You've got to hand it to the FAA. They think big!
They realized the great benefits GPS could bring to aviation, but they wanted more. They wanted the accuracy of Differential GPS and they wanted it across the whole continent. Maybe the whole world.
Their plan is called the "Wide Area Augmentation System" or "WAAS," and it's basically a continental DGPS system.
The idea grew out of some very specific requirements that basic GPS just couldn't handle by itself. It began with "system integrity." GPS is very reliable but every once in a while a GPS satellite malfunctions and gives inaccurate data.
The GPS monitoring stations detect this sort of thing and transmit a system status message that tells receivers to disregard the broken satellite until further notice. Unfortunately this process can take many minutes which could be too late for an airplane in the middle of a landing.
So the FAA got the idea that they could set up their own monitoring system that would respond much quicker. In fact, they figured they could park a geosynchronous satellite somewhere over the U.S. that would instantly alert aircraft when there was a problem.
Then they reasoned that they could transmit this information right on a GPS channel so aircraft could receive it on their GPS receivers and wouldn't need any additional radios.
But wait a second! If we've got the geosynchronous satellite already transmitting on the GPS frequency, why not use it for positioning purposes too? Adding another satellite helps with positioning accuracy and it ensures that plenty of satellites are always visible around the country.
But wait another second! Why not use that satellite to relay differential corrections too?
Oh, this is sounding good!
The FAA figured that with about 24 reference receivers scattered across the U.S. they could gather pretty good correction data for most of the country. That data would make GPS accurate enough for "Category 1" landings (i.e. very close to the runway but not zero visibility)
This system is underway. Specifications have been drafted and approved and it's expected that the system could be working as early as 1997.
The ramifications of this go well beyond aviation, because the system guarantees that DGPS corrections will be raining out of the sky for everyone to use.