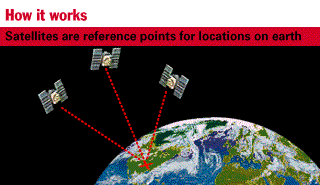 Since the reference receiver has no way of knowing which of the many available satellites a roving receiver might be using to calculate its position, the reference receiver quickly runs through all the visible satellites and computes each of their errors.
Then it encodes this information into a standard format and transmits it to the roving receivers.
It's as if the reference receiver is saying: "OK everybody, right now the signal from satellite #1 is ten nanoseconds delayed, satellite #2 is three nanoseconds delayed, satellite #3 is sixteen nanoseconds delayed..." and so on.
The roving receivers get the complete list of errors and apply the corrections for the particular satellites they're using.