Documents Scanning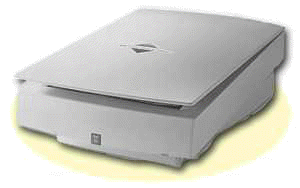 Using a scanner, you can transfer important documents and pictures directly to your PC for use in presentations, advertisements, or even easy faxing through your modem. Never retype a printed document again! Use Optical Character Recognition (OCR) software and a scanner to load scanned text into your favorite word processor.
There are two basic types of scanners:
Sheet-feed Scanner. A sheet-feed scanner resembles a printer, though its function is exactly the opposite. By feeding one or a series of pages through the scanner, the computer is able to scan the documents into a digital format that can be used in any number of ways on your PC. Using Optical Character Recognition Software, it is even possible to have the computer retype a large number of documents completely automatically. (or try a Multi Function Device)
Flatbed Scanner. More like a conventional photocopier, with a flatbed scanner you simply lay the item to be scanned on the glass tray and the software does the rest. This is advantageous over a sheet-fed scanner as it allows you to scan items that would not normally come in a single page format, like books, magazines, boxes, and even framed or aging photographs.