Thuraya Satellite Phone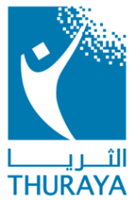 Flexible Dual-Mode Technology
Thuraya offers quality dual-mode terminals that offer satellite and GSM connectivity. This flexibility ensures continuous and cost-effective roaming for users. Essentially, Thuraya subscribers would continue using their national land-based mobile network, but will be able to automatically switch to Thuraya satellite mode in areas that are outside the terrestrial system.
Another advantage is that outside Thuraya's coverage area, subscribers would still have the convenience of roaming in other GSM networks areas. This combination of advanced and flexible system designs ensures reliable, global mobile services to subscribers.
Thuraya can support the following types of user terminals:
Hand-held. Similar to GSM terminal in appearance, size and weight. GSM and satellite mode.

Vehicular. Consists of handheld terminal and vehicular fixed kit. GSM and satellite mode.

Fixed terminal. Consists of handheld terminal and indoor fixed kit. Satellite mode only.
Hand-held Terminal Features:
Similar in size, weight and features to the GSM terminal

Location determination capability using GPS with an accuracy of 100m

Standard GSM Encryption Algorithm in GSM mode

GSM Standard Encryption in Thuraya mode

3V and 3/5V Plug-in SIM card compatible with the GSM

Quadrifilar Helix L-band Antenna

Talk time in the Satellite mode is 2.4 hours using the 650 mAh battery and 4.5 hours using the 1200mAh battery

Standby time in the Satellite mode is 34.1 hours using the 650 mAh battery and 63 hours using the 1200mAh battery

Serial port PC interface

Li-Ion Battery with capacity 650 & 1200mAh